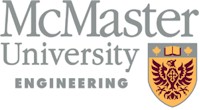 I currently have a group of 8 graduate students working towards Master's or Ph.D. degrees and a number of undergraduate students pursuing independent research courses for credit and/or as continuation of past work.
Unfortunately, I do not have any current openings in my group.
Current Graduate Students
Current Undergraduate Students
| | | |
| --- | --- | --- |
| Omair Rana | Summer 03 – Present | Omair started out with me as a summer research student as part of the McMaster UROP program and has continued working with me since. He is currently doing his 4OJ3 research project on boron diffusion in MBE Si. |
| Gaurav Bahl | Summer 04 – Present | Gaurav is co-supervised with Dr. Rafael Kleiman. He has been working with us on a scheme for communication with implanted/remote MEMS devices. |
| Fu-Yuan Yang | Fall 04 – Present | Fu-Yuan started in my group last fall and is currently working on his 4OJ3 project studying SiGe power amplifiers. |
| Yuan-Jing (Kelly) Wang | Winter 05 | Kelly's 4OJ3 research project is to study the optimization of wireless power amplifiers for efficiency. |
| Jenny B. Lee | Winter 05 | Jenny's 4OJ3 research project examines phosphorus diffusion in Si and SiGe. |
Former Students and Associates
Lorraine Kambulow, undergraduate student, NSERC USRA, Summer 03, Sb diffusion in Si and SiGe.
Mehdi Kazemeini, visiting research scientist, Fall 02, transport properties in OTFT's.
This page was last updated on February 28, 2005