---
Jun Chen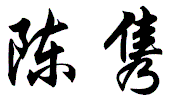 Professor
Department of Electrical and Computer Engineering, McMaster University
1280 Main Street West, ITB A221
Hamilton, ON L8S 4K1
Canada
Email: chenjun at mcmaster dot ca
Phone: (905) 525-9140 Ext. 20163
Fax: (905) 521-2922
---
Biography:
Jun Chen received the B.S. degree in Electronic Engineering from Shanghai Jiao Tong University in 2001, and the M.S. and Ph.D. degrees in Electrical and Computer Engineering from Cornell University in 2004 and 2006, respectively. He was a Postdoctoral Research Associate in the Coordinated Science Laboratory at the University of Illinois at Urbana-Champaign from September 2005 to July 2006, and a Postdoctoral Fellow at the IBM Thomas J. Watson Research Center from July 2006 to August 2007. Since September 2007 he has been with the Department of Electrical and Computer Engineering at McMaster University, where he is currently a Professor. He held the title of the Barber-Gennum Chair in Information Technology from 2008 to 2013 and the Joseph Ip Distinguished Engineering Fellow from 2016 to 2018. He was a recipient of the Josef Raviv Memorial Postdoctoral Fellowship (2006), the Early Researcher Award from the Province of Ontario (2010), the IBM Faculty Award (2010), the ICC Best Paper Award (2020), and the JSPS Invitational Fellowship (2021). He served as an Associate Editor of the IEEE Transactions on Information Theory from 2014 to 2016 and is currently an Editor of the IEEE Transactions on Green Communications and Networking.
---
Teaching:
Fall 2020 Network Information Theory (ECE 735, McMaster)
Fall 2020 Digital Communications Systems (EE 4TK4, McMaster)
Fall 2020 Signals and Systems (EE 3TP3 McMaster)
Winter 2020 Digital Communications II (EE 4TM4, McMaster)
Fall 2018 Probability and Random Processes (EE 3TQ3, McMaster)
Winter 2018 Circuits and Systems (EE 2CJ4, McMaster)
Winter 2013 Advanced Engineering Mathematics (ECE 704, McMaster)
Fall 2009 Fundamentals of Wireless Communications (ECE 738, McMaster)
Fall 2009 Digital Communication Systems (EE 4TK4, McMaster)
Fall 2008 Mathematics for Linear Systems (EE 3CK3, McMaster)
Spring 2005 Multiuser Information Theory and Wireless Communications (ECE 795, Cornell)
---
Students:
Postdoc Qiqi Wang
Ph.D. Xiaohong Liu, Huan Liu, Siyao Zhou, Kangdi Shi, Zhihao Shi, Jingjing Qian, Hafez Musavi, Yangyi Liu
M.A.Sc. Linhui Dai, Yanning Li, Zijun Wu, Haoyue Zheng, Yankun Yu, Minghan Fu, Wei Hao, Xiang Song, Zikai Dou, Yuanhang Zhang, Chenqi Li
Alumni:

(

list

)
---
Recent News:
August 2020: Our team received a Runner-Up Award in AIM 2020 Challenge on Learned ISP Track 2: Perceptual.
June 2020: Our team ranked in 3rd place in NTIRE 2020 Challenge on Demoireing Track 2: Burst.
May 2020: Xiaohong Liu received a Borealis AI Global Fellowship Award.
April 2020: Xiaohong Liu received an Alexander Graham Bell Canada Graduate Scholarship-Doctoral from NSERC.
Old News: (list)
---
Research Interests:
Information and Coding Theory Machine Learning Natural Language Processing Wireless Communications Multimedia Communications Signal and Image Processing Data Compression and Storage Networking Optimization
---
Projects:
Quantum Extremal Inequalities with Applications (The Margaret Ellen & Kon Max Wong Quantum Technology Research Fund)
Computer Vision and Deep Learning for Moderating Visual Content (

Mitacs

Accelerate Grant)
Achieving the Performance Limit of

Noncausal

Lossy

Compression with the Predictive Coding Architecture (Google Chrome University Research Program)
Learning-Oriented Data Compression with Applications (NSERC Discovery Grant)
Past Projects:

(

list

)
---
Publications:
Patents and Standards Contributions
---
Professional Activities:
Chair: Joint Chapter of Communications, Information Theory, and Signal Processing Societies - Hamilton Section
Co-chair: Information and Coding Theory Symposium, CHINACOM'08.
TPC Co-chair: Canadian Workshop on Information Theory (CWIT) 2019 (Workshop Webpage).
Organizer: Workshop on Information Theory and Wireless Communications (Technical Program).
Organizer: Bergerfest (Workshop Webpage)
---